Recreation

Operations

Wells Reservoir

Map of Project

Juvenile Bypass System

Adult Fish Ladders

Hatcheries & Acclimation Ponds

Recreation

Wildlife Resources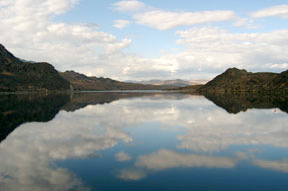 The Wells Reservoir is a recreation resource for local residents and tourists. Local residents have easy access to the Wells Reservoir. Access to the Wells Reservoir from the greater Seattle area is most common via Interstate 90 over Snoqualmie Pass to US Highway 97. Highway 97 borders the reservoir on the west and extends to British Columbia. Other routes from western Washington include US Highway 2 over Stevens Pass and summer access via State Route 20 (also known as the North Cascades Highway). Tourists from eastern Washington typically visit the area via Highway 2 from Spokane. Canadian tourists access the area by heading south on Highway 97, which meets the reservoir near the community of Malott.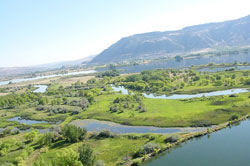 Many tourists visit the Wells Project during the summer to participate in recreation opportunities, such as boating, fishing, hiking and camping. Additionally, many sportsmen visit the area during the fall and winter months to fish for steelhead and to hunt for waterfowl, upland birds and deer. Douglas PUDís commitment to developing and enhancing recreational access to Wells Project lands and waters has been documented in its Wells Recreation Plan (1967), Public Use Plan (1982) and Recreation Action Plan Updates (1987, 1992, 1997, 2002, and 2007). This commitment has produced over 30 access sites and usage areas along both sides of the reservoir and up the Methow and Okanogan rivers, including the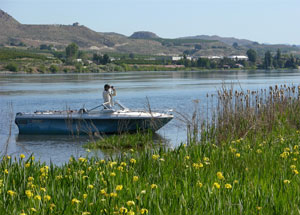 development of the Wells Dam Overlook and Visitor Center.
In addition to these sites, Douglas PUD has contributed significantly to the development of major parks and recreation facilities along the reservoir in the cities of:
Wells Dam Overlook and Visitor Center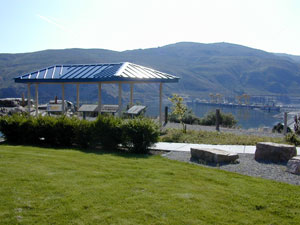 A viewing area overlooking Wells Dam from the west is located off of Highway 97. This area includes vehicle parking, restrooms and a picnic shelter. Exhibits at the Overlook include Native American pictographs and an original Wells Project turbine runner. The Wells Project Visitor Center is located inside the hydrocombine and includes exhibits on the life-cycle of salmon and a description of the power generation facilities located within the project. It also includes a variety of exhibits depicting historical, geographic and scientific facts of the area. A window in the Visitor Center provides for close viewing of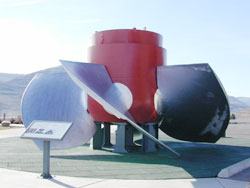 migrating salmon through the fish ladders. The Wells Dam Overlook is accessible 24 hours-a-day. The Visitor Center is available through prearranged tours.