City of Pateros

Pateros

Brewster

Bridgeport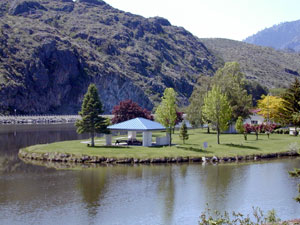 Douglas PUD has helped fund and develop the existing parks and recreation facilities adjacent to Wells Project lands and waters in the City of Pateros. These facilities include Peninsula Park, Memorial Park, tennis courts, two separate concrete boat launches, parking, a fish cleaning station and restrooms.
Peninsula Park is located near the confluence of the Methow and Columbia rivers. It includes a gazebo, paved walking path, covered picnic shelter, swimming beach, restroom facilities, playground equipment, lagoon and lawn area.
Memorial Park is located in Pateros along the Columbia River. It includes three covered picnic shelters, fishing and ski docks, vehicle parking, interpretive displays, restroom facilities, a fish cleaning station and a developed waterfront trail. The waterfront trail extends along the waterfront from the concrete boat launch underneath the Highway 97 Bridge through Memorial Park to the Pateros City Hall. A second boat launch is located just upstream of Memorial Park on the mainstem Columbia River.